Hanna Mari
HANNA MARI, Junior Consulting Associate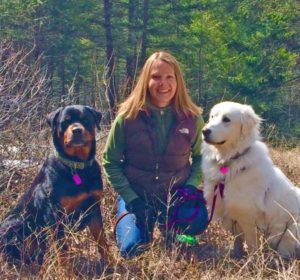 Hanna has always had a deep passion for nature and animals. Ever since she was a child she has had animals in her life. She could never imagine a life without the companionship of animals nor the splendour of this world. Her relationship with animals is so natural, and she has always felt a silent mutual love and understanding in their presence.
Hanna loves sharing the wisdom and spirit of this deep heartfelt connection between humans and animals. She says, "This is when the truly extraordinary happens!"
It is this awe that feeds Hanna's passion to learn, share, and inspire others through animal communication.
Hanna has a BA in Developmental Psychology, and has over 25 years of experience in the Natural Health and Healing field with people. As a Master Herbalist and retired massage therapist, Hanna uses her knowledge of body work, anatomy, herbs, essential oils, and flower essences to compliment her animal communication practice.
Hanna works with all animals and all concerns. The majority of her practice is helping animals and their people during end-of-life issues by offering support, insight and guidance during this very emotional and difficult time. She helps bring a sense of peace and understanding with her gentle, compassionate demeanor. She works in a respectful and unbiased manner to both communicate with the animal and to authentically give them their own voice so she may share what they wish us to know.
Hanna resides in a small mountain ski town in British Columbia, Canada. She shares her country home with her loving husband, faithful Rottweiler, sweet Great Pyrenes and two adorable cats.
To contact Hanna, email her by clicking here.