Jill Keenan, RVT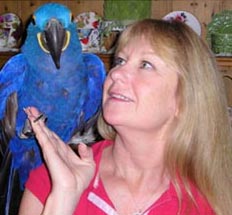 Certified Consulting Associate
Registered Veterinary Technician
Jill Keenan is unavailable until further notice.
Jill has been talking to animals since she was a little girl.  She would have conversations with her dogs and her mother would say, "If that dog answers you I'm leaving".  As she grew up her love for animals only grew deeper.
Jill studied dance and had a wonderful career as a professional dancer. But, as time went on she had to decide what to do with the second half of her life.
She wanted to do something she loved and knew that her dream job would be working with animals. After 2 years of schooling, Jill became a registered veterinary technician. During her work in a hospital setting it became very clear to her that the animals were hearing what she was saying to them. She could see an immediate reaction to her easing their fears and explaining what was going to happen. Jill was then offered a dream job of managing a family's personal zoo. It was here that she met Carol Gurney. She immediately began her studies at The Gurney Institute.
Today, Jill works as an animal communicator with a veterinarian who does at-home euthanasia. This has been a very rewarding experience as she provides comfort and compassion to not only the animals but their guardians as well. She still works for a family with a small menagerie and enjoys giving animals a voice and helping solve their problems.
Jill lives in Woodland Hills, California with her husband, 2 mini horses, 4 dogs and too many birds to count.
Jill's Work:
My name is Claudia Field and I am forever grateful to know Jill Keenan!  My cat Papa recently got out of my window.  After 9 days of being heartbroken and worrying about what could happen to him, I contacted Jill for a session.  This was the best decision I have ever made!  With loving kindness and compassion, Jill gathered the information she needed about him and immediately connected with Papa.  She allayed my fears and assured me he wanted to come home.  She shared details about Papa that only he could've told her like my kissing his nose and singing to him (this made me smile during all the stress and worry).  he thought I was mad at him for going outside.  All Papa needed was to be invited home and for him to know I loved him and wasn't angry!  I was amazed!
As a result of Jill's amazing gifts as an animal communicator, Papa is back at home safe and sound.   My heart is filled with joy and gratitude for Jill.  If you have a lost animal, Jill will do her best to find him!  Without Jill's gifts of communication, I am not sure Papa would've come back home.   She was there for me every step of the way and I cannot wait to enjoy our next sessions so she can speak with my other two furry babies!  From the bottom of our hearts, Papa is so happy to be back at home and he and I thank you!
To contact Jill email her by clicking here or call 818-597-1154 Ext. #5