Client Testimonial for LAURIE FOSTER
From Nancy Poznak, Maryland
I wanted to let you know what an extraordinary job Laurie Foster did communicating with my cat before and after he passed away.
Fozzy was 8 years old when I adopted him in July 2013. This past April, only nine months later, Fozzy became very ill from lymphoma and it ravaged his body very quickly. Before I know what was wrong, I noticed he had become very mopey.
An x-ray revealed a mass, then an abdominal ultrasound revealed cancer in multiple sites. Laurie's communication with Fozzy was so clear. She helped me understand how he felt and what he wanted. It was amazing! Fozzy wanted me to put a framed picture of him up after he passed on, to help me remember him. Without thinking about it, I found a picture of him looking straight into the camera. I still have his picture up and swear I can feel his presence when I look at it!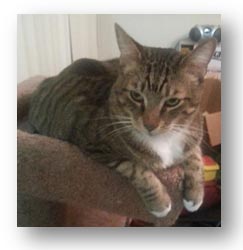 Laurie's conversations with Fozzy helped me know when and how to manage his passing. She also helped Fozzy understood what was going on and how we would help him 'leave.' Although the experience of losing him was heartbreaking, Laurie's communications provided so much comfort and assurance that I was doing the right things for him, for my other cat, and for me. Fozzy wanted me to adopt another cat right away, which I did; we're all doing great! I am comforted knowing Fozzy wanted me to "whole-heartedly love another kitty."