Lei Taft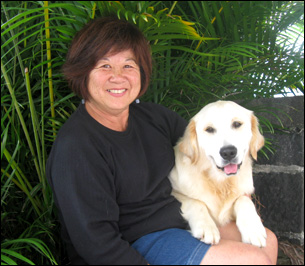 Certified Consulting Associate
Specializing in Lost Animals
Lei Taft is unavailable for consultations until further notice
Growing up in a household with a variety and multitudes of animals taught Lei at an early age about love, respect and how to nurture animals. As a young adult it didn't take long for her to establish her own family of animals. Lei has shared her home with not only dogs and cats but horses, cows, pigs, sheep, peacocks, rabbits and ducks, all pets. Additionally, her attraction to the gentle, benevolent temperaments of the Golden Retriever has led to a lifetime of breeding, training, showing and most recently, judging.
In the early 1990's Lei's need for information to help find a lost cat led her to Carol Gurney. The consultation she had left Lei with the desire to learn more about animal communication. Later Lei found herself in one of Carol's workshops, then another, followed by more. The realization that animal communication was a valid process kept her seeking additional knowledge. Through this discovery process, Lei noticed that she quite often saw maps when trying to locate lost animals. Thence, it seemed only natural to help others in need.
Lei's exposure to different issues and temperaments is extensive from the training she presents. One of her favorite challenges is tackling behavior problems through training techniques combined with animal communication. Lei's knowledge of canine anatomy and conformation is also helpful and applicable in understanding and pinpointing health issues in not only dogs, but cats and horses as well.
Lei has worked as a Consulting Associate for The Gurney Institute of Animal Communication since 2004 and has assisted clients all over the country, Europe and Mexico.
Lei holds a Bachelor of Fine Arts from CA College of Arts & Crafts, a BA in Elementary Teaching from the University of Hawaii and currently manages her husband's contracting office. She has one son who has gifted her with a loving daughter-in-law and grandson. She currently shares her busy household with her husband, ten Golden Retrievers (some rescues), five rescued cats and a small herd of ten pet cows.
To contact Lei, email her by clicking here.
(Lei can only be contacted by email)