MADELEINE BALCER,
Certified Consulting Associate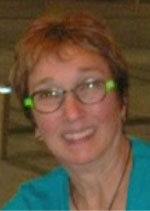 Madeleine is unavailable until further notice.
Madeleine Balcer is an animal lover just like you.
She has a BA in Biology, and two Masters in Information Science and Project Management. She worked in the field of Library Software and Automation until 2006.
She always liked to walk in the forest, hear, smell and feel nature surrounding her. Early in her life she talked to animals in the wild. She feels fortunate to have met Carol Gurney and completed the HEARTTALK PROGRAM® CERTIFICATION TRAINING. Through this she discovered she could engage in a two-way conversation with an animal.
Madeleine's mission is to give your animal a voice. Knowing how your animal feels and thinks creates a stronger bond between you, and can also help you understand and address any physical or behavioral problems, assist both of you during his transition, or help you find him if he is lost. If you believe in reincarnation, or are simply curious and would like to explore something new, she can look into any past life you may have had with your present animal.
Madeleine is located in Quebec, Canada and is fluent in both French and English.
View testimonial of a lost dog who was found by Madeleine:
Click here
for Madeleine's client testimonials.
To contact Madeleine, email her by clicking here.