Maureen Harmonay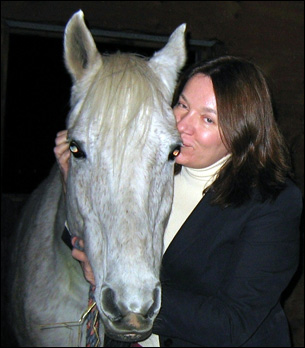 Certified Consulting Associate
Reiki II Practitioner
Healing Touch for Animals Level II Practitioner
Maureen Harmonay is unavailable until further notice.
Maureen Harmonay has been in practice as a Professional Animal Communicator since she graduated from Carol Gurney's HeartTalk Program® in 2006.
Maureen has felt a strong connection with animals for most of her life. She first discovered that she was able to communicate with horses almost 30 years ago, when she bred and raced thoroughbreds and worked as a thoroughbred bloodstock advisor and pedigree analyst through her consultancy, Harmonay Thoroughbred Associates.
Maureen specializes in working with horses, dogs, and cats to resolve and shed light on training and behavioral problems, personality issues, transitions, death and dying, and animals in spirit. Her consultations are typically grounded in real-life details, and her focus is on providing concrete answers to sometimes puzzling situations.
The hallmark of Maureen's approach is her compassion for your animal. She opens herself to hear his or her perspective without judgment or preconceived notions.
Maureen is the Massachusetts Adoption Coordinator for New England English Springer Spaniel Rescue. She is dedicated to the efforts to end the slaughter of horses within U.S. boundaries, and to ban the shipment of horses to slaughterhouses outside the country. She is the Boston Animal Advocacy Examiner for Examiner.com.
Maureen publishes a free monthly eNewsletter, "What's Up With Animals?" and writes a regular blog on animal advocacy and animal communication topics. She is also the Editor of The Animal Communication Book Club. She shares her life with three cats, a Springer Spaniel, two canaries, a Quarter Horse mare, and a barnful of bantam chickens.
Maureen's Work:
"Maureen picked up that Jack had some discomfort, specifically in one of the toes in his left hind foot. The day her transcript arrived, Jack started to limp. I couldn't believe it! After two visits to the vet and an X-ray, it was revealed that Jack had toe cancer and one of his toes had to be amputated.
Jack is now cancer-free and a happy dog. I will be forever grateful to Maureen for her amazing insight that kept Jack from having more of his foot removed. Her other insights have brought me to a deeper understanding of him and our relationship.
I am more grateful than I can fully express."
– Marlene Prince, Massachusetts
To contact Maureen, email her by clicking here or call 818-597-1154 Ext. #4.