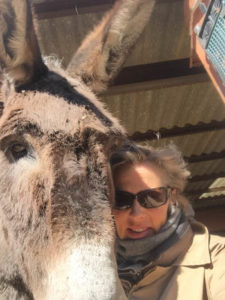 Stéphanie was born with high sensitivity, and an innate connection to animals, their natural habitats, plants and minerals.
It is precisely this sensitivity which made her suffer greatly, unconsciously absorbing everything that surrounded her, taking on others' energy and ailments.  Therefore, as she grew up, she began to distance herself from her abilities, shutting down in order to stop feeling everything so strongly. She took this to the extreme, adapting to the tough real world and what was demanded of her, by becoming tough and insensitive herself.
A decade passed by, until the unexpected losses of some of her animals, caused all of her childhood gifts and nightmares to return in a chaotic way.
During that time, her remaining animals patiently guided her back to her true self, and this is when she met Carol, at the Gurney Institute. Carol provided human guidance so that she could find a safe way of being her sensitive self again. Stéphanie will always be grateful to the Gurney Institute for creating this safe space.
Since completing Carol's training course, Stéphanie has worked extensively with animals and their human companions, not only as a communicator, specialized in mirroring cases, but has also trained as a dog behaviorist and has recently completed an equine and canine osteopathy two years degree. She connects with animals at a deep level, grasping the unspoken and sacred connection between animals and their human companions. She can understand what truly lies behind emotional, behavioral and physical symptoms. She helps the human to understand their own unfulfilled needs through their animals' behavior and what they are teaching us.
Driven by her thirst for knowledge to help heal and better understand the relationship between animals and humans, Stéphanie has trained to be a therapist in New Quantic Constellations (healing inherited memories and codes from our ancestors, and what our animals see of our system for us). This is in conjunction with the Geocrom Method® (archetypes, codes of sacred geometry and colors for energy, psychological and spiritual harmonization)  and continuous training in Kinesiology for animals.
She combines her knowledge, compassion, sensitivity, and experience gained from her own healing through animals to help improve the lives and relationships of others.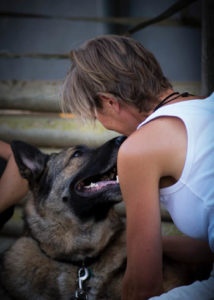 She earned a BSc in Ecological Sciences with honors in Wildlife Management at the University of Edinburgh (Scotland); and spent a year studying Tropical Agriculture at Wageningen University (Holland). She has also worked as a farm trainee in different countries including Australia, Zimbabwe, Botswana, and Argentina.
Stéphanie is Belgian of origin, and currently living in Spain, working on a project focused on sustainability on a traditional farm, helping to develop a new concept of natural animal feed, and as a stable manager for "transits/traveling" horses. She also helps a Horse Sanctuary, Association CYD Santa Maria (https://asociacioncydsantamaria.es), with severe cases of traumatic animal abuses.
She attends consultations in Spanish, French and English. Please email first to check schedule as being located in Spain, due to time differences and work; she may not be immediately available to do the consultation.  
To contact Stéphanie, email her by clicking here.