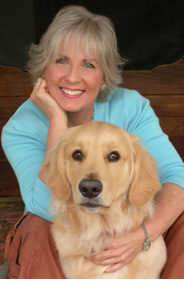 Carol Gurney is internationally respected as one of the foremost experts and a pioneer in the world of Animal Communication. Since 1986, she has traveled the globe teaching people how to connect with our animal companions and the first to offer a fully comprehensive training program in this ever-growing field.
Thousands of people from all walks of life have sought Carol out for her amazingly accurate, nurturing and down-to-earth communication and teaching style. From animal trainers, veterinarians and breeders to therapists, medical professionals, and even Hollywood celebrities; Carol has taught them all. But her message isn't just about "talking to animals."
From the beginning her focus has always been about the deeper gifts the animals bring to us. Through her work Carol helps people understand that, through their unconditional love, animals offer a direct reflection of those areas within ourselves that need nurturing.
In addition to her private consulting and HeartTalk Program® workshops, Carol is a well-known lecturer and has been featured in numerous national publications, and radio and television programs. She has also created a series of instructional CD's, and her popular book, The Language of Animals: 7 Steps to Communicating with Animals, is considered by many to be the ultimate resource on the subject.
"I feel very blessed," says Carol, "that I have the opportunity to share this work with so many wonderful people and animals and watch their dreams come true."
In 1980 it wasn't Carol who sought out Animal Communication but the other way around. As a Vice President in an advertising firm and later a successful private business owner, Carol wasn't looking for a new career, she was simply trying to help her own cat through her health crisis.
When her veterinarian couldn't give her any answers, he recommended she see an Animal Communicator. The experience changed Carol's life and inspired her to learn everything she could about this incredible skill.
In just six short years she sold her business, began helping others with their animal's issues, and developed the HeartTalk Program® to give people the tools they needed to communicate with their own animal companions.
Her students know when they come to study with Carol that they are working with an authentic, gifted and natural teacher and are going to get the support and individual attention they need to be successful. In all of her classes Carol creates a unique and safe environment while encouraging students to speak freely and to let go of their fears of being wrong or making mistakes. Her genuine interest and caring for people, and her gift of knowing what each student needs, helps her gently lead them on their way to recognizing their own animal communication skills.
Continuing to lead the way in her field, in 2008, Carol established The Gurney Institute of Animal Communication. This groundbreaking Institute is internationally recognized as a center of learning, devoted to the empowerment of individuals uncovering their innate ability to connect with animals from the heart and as a beacon of the highest level of training, professionalism and integrity in the industry. In 2012, Carol transformed The Institute into a Non Profit Public Benefit Corporation to provide an even broader foundation for informing and educating all of society about the benefits of animal communication.