SHELLI ORAVA, Certified Consulting Associate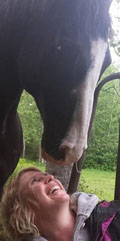 Shelli is unavailable until August 20th
Shelli has always been associated with the animal world. She grew up on the Eastern side of the Canadian Rockies with a family of animal lovers, and was constantly surrounded by cats, dogs, horses, llamas and the omnipresent rescued beast or bird.
In the Orava family, the philosophy of animal care was: treat them as an equal, feed them before yourself and always pass kindness and love toward your four-legged friends. Shelli went beyond. She had the innate tools to communicate naturally with the animal world. This was especially evident seeing her, from a young age riding bare back through the country, without bridle with a half dozen four-legged friends charging behind!
Shelli is married to a man who shares her many passions. Multi-day horse packing trips through the rugged Canadian Rockies is one of their loves. They live in a small hamlet in the Rockies and continue to be close to nature and the animal world.
Shelli has a calm, intuitive approach to life in both human and animal realms. She has further developed this ability through life coaching, and now through animal communication. Her abilities result in building a bridge between the human/animal connection.
Click here for Shelli's client testimonials.
To contact Shelli, email her by clicking here.