Lynda Pinizzotto & Vinnie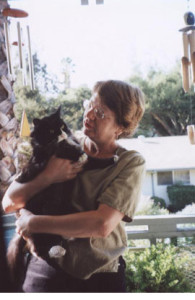 Although I had accepted the premise of "animal communication", I believed it was something only the "gifted" could access. And while there are gifted Animal Communicators in the world, Carol being one of them, I discovered during a two-day HeartTalk Workshop that everyone can learn to speak to, and more importantly, listen to the animals
Carol's teaching method is positive and encouraging. In a safe and comfortable environment, "regular people" were taught to relax and open to specific and verifiable information. We asked questions and received the answers from animals we had never met. She expertly guided us in removing blocks to our information flow through "tips" she has used over the years. Everyone succeeded!
Compassion and respect for all animals adds another dimension to her approach, truly making it Heart Talk.
While it is magical in one sense, Carol taught us that we are simply using another language. One that we had not given credibility to before. I admire Carol's precision in all her communication, both with humans and animals. This intelligent and positive model sets a standard for all aspiring interspecies communicators, benefiting each group in the highest way.
My hours spent in the workshop are ones that I treasure and hope to expand upon. What I learned is intangible, yet very real. I actually learned to communicate with the animals!
Lynda Pinizzotto & Vinnie
Suzanne & Lulu Prince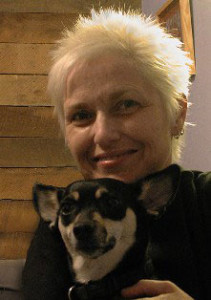 I will never be able to thank you enough for coming to Charlotte. My life has changed! Your warmth and compassion are so inviting. You are truly a genuine spirit. Thank you for sharing your wisdom and encouragement. At one point, I remember you sharing about when you were starting out and you said that if you could communicate with animals for your life's work you would be happy beyond belief. I feel the same way. I really do feel like this is my path – to continue to study with you. All my experiences up until now have led me to this place and you. You are a remarkable woman.
Thanks,
Suzanne & Lulu Prince
Linda
"Carol's style of teaching is simple, clear, and down-to-earth. She is a gifted teacher with a gentle and caring soul, and she makes it easy to learn how to communicate with animals in a safe, supportive, and loving environment. Her workshops are incredible to experience. It was so much more than I ever would have expected from any workshop…It was truly a heart-opening experience."
Linda Gray, actress
Patricia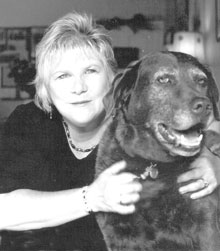 When I read Carol's book, I knew her training would be invaluable to me in working with my own dogs, cats and horses. Carol's HeartTalk Training Program® allowed me to easily recognize and quickly learn to use my telepathic skills as a Professional Animal Communicator, more so than with other classes I had attended taught by other communicators.
The skills I have learned from Carol are essential in my store "The Animal Connection," which is a holistic store for dogs, cats and horses. When people come in and ask me what would be a good food or treat for their animal it's great to be able to truthfully say, "well, let's ask your dog and see!"
The animals give me information not only about taste, but also how the food makes them feel physically. When selecting homeopathic remedies, flower essences or essential oils, the animal gives me information so that I am better able to decide what they need, and they're always right on!
Carol's body balancing class awakened me to the power of energy healing. Being able to intuitively work with an animal's energy field is essential in working with those who are experiencing physical, emotional or spiritual imbalances. I would highly recommend that all animal professionals and volunteers take this class – you will be amazed by what can be accomplished with your animal friends through this workshop.
Patricia Boden
Animal Communicator and owner of
The Animal Connection Holistic Pet Store
1701 East Allied Street, Charlottesville, VA 22903, 434-296-7048
Kay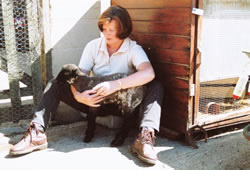 I have found my animals more responsive & attentive since being in Carol's Workshop, my horse kept looking me in the eye, more interested in being with me. Also when riding my horse I was very careful not to have negative thoughts about how she would behave when out riding & yes she behaved really well!! which is not always the case.
I thought Carol's Workshop was very constructive and she was never at a loss for an answer to questions. A very pleasant lady & so easy to approach. Her knowledge on her subject was amazing. All told an excellent weekend, I only hope I can communicate as well as her in time.
Best Wishes,
Kay Cameron – Cheshire, England
Attended the 2-day Workshop in Lancashire, England
Amy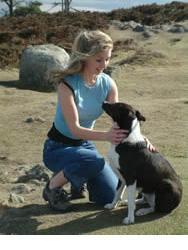 I attended the Introductory and Advanced communication workshops. I felt very at home throughout both workshops. I was aware of Carol's immense compassion, patience and understanding towards each individual student. This made me feel safe and relaxed; enabling me to focus fully on the exercises.
Carol's encouragement and enthusiasm stay with me still. Without this new confidence I would not have accepted the challenge of listening to Frankie, a lost cat. My experience with Frankie has been so poignant for both myself and for him.
I have learned that if I limit myself at all, I limit the animals. And that there need not be fleeting moments of understanding between myself and any creature, instead every moment can be full of love and understanding-it is just up to me! Thank you Carol for creating such a lovely learning environment and opportunity.
Amy Davidson
Scotland – Attended the 2-day Workshop in Lancashire, England
Diane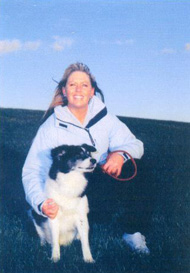 I attended the Introductory and Advanced Communication Workshops. I am an Equine Healer, but do work with other animals when required. Over the years, I have developed my channels on communication through spiritual healing. This has lead me to this specific area of expertise.
I feel that attending Carol's workshop has helped me to develop new skills, as I feel my channel of communication with the animals has greatly improved and I am more aware of their requirements. My communication is now on a very deep emotional level. The animals will convey to me what they are feeling. They will tell me of any physical pain they might have, or give me pictures or other descriptions of something they require from their career. Animals also tell me what they like and what they dislike.
I felt that everything Carol said came from the heart with warmth and sincerity. She is an excellent teacher and communicator and helps you realize your own true potential. Thank you Carol!
Diane Mitchell
Yorkshire, England – Attended the 2-day Workshop in Lancashire, England
Renee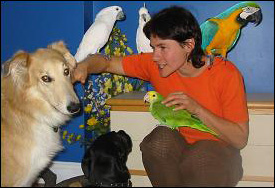 "At last she understands me!", says Delima, the umbrella cockatoo…
"I want to help with your work!", says Gabyloo, the blue and gold Macaw…
"You already knew I loved you", says Sarah the dog.
What a great experience it is to finally begin to understand the depth and richness of my animal companion's personality and teachings for me.
Thank you Carol, this is a life changing experience and I have a feeling that what I've learned from you will be useful for many around me…
Renee Bissonnette
Quebec, Canada – Attended Training Program 1-3 and Body Balancing in Agoura, CA
Janet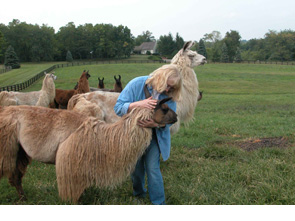 I recently attended the Body Balancing workshop. I am in Penelope Smith's apprentice program and had just finished teaching a Basic Workshop. I felt that there was something missing from my consultations and when I saw that Carol was going to be teaching her Body Balancing workshop near my home, I just had to attend. In my consultations, I did not feel totally comfortable when physical issues came up. I am a Reiki Master and have studied Bioenergy with Mietek Wirkus.
I was also familiar with Bach Flowers, homeopathy, acupuncture and other complimentary medicine but I did not feel confident using these tools with animals.
Carol teaches many techniques during the Body Balancing workshop. She said that each technique is a tool that we can put in our "tool box". She made sure that each one of us understood how to do the technique before practicing on our horses. She also was right there with us if we were not sure what to do. I loved working with one other person on the same horse for the duration of the workshop. This allowed us not only to be able to practice each technique, but to observe the horse as it changed during the three days that we worked with them. My partner and I were able to witness first hand how these techniques relaxed and healed the horse. We were able to see energy blocks become un-blocked, see the animals totally relax and begin the healing process. My workshop partner and I witnessed dramatic progress in the horse that we had the privilege to work with, right before our eyes.
I highly recommend this workshop to anyone that plans to become an Animal Communicator. The workshop is valuable for anyone that wants to help their own animal companions along with any other animal friends in their life.
Janet Hicks Dobbs – Oak Hill, Virginia
Kim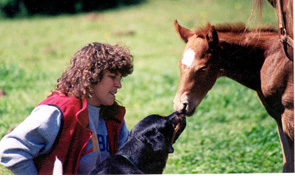 I am lucky enough to spend the better part of my day with animals. I train horses for a living and have always found a way to surround myself with many different animals on our farm. I have thought about animal communication for many years and vowed that if any classes became available to me I would go. Then as an answer to a prayer, Carol scheduled a class in my city.
I took her two-day animal communication class. Her teaching ability is astounding and I walked away knowing you can talk to animals. While we all might be "able" to communicate with animals, it takes a special person to teach us this ability. All of us learn differently and the true teacher is able to reach us all. Some of us learn through visualization, some need a comparison; others need to "feel" it, some need to sense it and others need to remove their own blocks of issues first. Carol has the unique ability to reach each person at the level in which they learn best. There is never any pressure, just the constant affirmation that it will happen for you too. Such encouragement and positive reinforcement allows for a tremendous learning environment. After that weekend class I became a sponsor for Carol and have hosted quite a few more classes. There are many reasons to become a sponsor. Being a sponsor allows you to build relationships with others whose interests are compatible. The depth of the training program that Carol offers and the class's available appeal to many different individuals. The biggest job is getting the word out on the classes and then they sell themselves. I have continued to learn and grow throughout her program. She is a joy to be around, both personally and professionally. Not only the animals love her, but people are drawn to her as well. It is truly a gift to be able to reach animals and their human counterpart. She is an ambassador for the animals in her program of communication.
Kim Sanders at The Sander's Ranch, Centreville, VA
Laura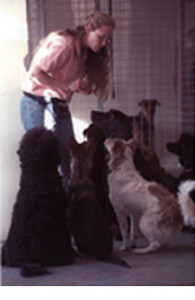 I am writing this on behalf of Carol Gurney. Carol has been a gift in my life. She is an amazing woman who I admire whole-heartedly. Eight years ago, I began reading books on Animal Communication. I knew that I had a unique connection to animals as a child. As I grew older, I was not sure exactly what my connection was or what it meant. I had heard of Animal Communication and Telepathy and at first I was extremely skeptical. I thought mind speaking to animals was for gypsies or witch type people. I did not truly believe it was real. Then I meet Carol. She is down-to-earth and truly inspiring. She did not seem "out there" or a fraud. She became a wonderful teacher to me as well as a mentor who I continually ask for advice and guidance. After many years, she still is part of my support system. How many people can say that about their teachers?
Carol taught me that anyone can develop their skills as an Animal Communicator. It is a gift we all have. It may take practice and discipline, but in time we all can hear the animals loud and clear. Even as a beginning student, Carol always made sure to validate each student's experiences. She made me believe in Animal Communication as well as MY ability to talk to the animals. Because of Carol and her unique style of teaching, I pushed myself to learn and to grow with the animals.
Now, half my business is talking to animals. It's beautiful. What the animals say and how they feel amazes me on a daily basis. I thank Carol for believing in all her students and for teaching us to believe in ourselves. I have clients that ask me to teach them how to communicate with animals. I send them all to Carol. I couldn't possibly be as great a teacher as she. A big part of who I am today is because of Carol. She is the best teacher for the student who is curious and wants to learn for fun as well as the student who would like to become a professional.
Thank you Carol for all that you do!!
Laura Stinchfield – Animal Communicator, Ojai, CA
Suzy
I have attended several of Carol's workshops and loved every one of them. I am currently preparing for Part IV. Studying with Carol has changed my life dramatically. Carol's class series supported my natural growth with attention on loving. This is more than becoming an Animal Communicator, this is letting my own divine light shine and watching other participants shine too. What a blessing to learn, grow and shine with her.
Carol is a living example of a person following her heart and the tremendous love and inner peace that comes from that seldom traveled road. She answered a true calling to teach and she does so with grace and an open heart. Carol is grounded, intelligent, beautiful, open-minded, and open-hearted. I couldn't have hoped for a better teacher and mentor. Carol is a generous soul who is a champion for animals' humane treatment and a genuine movement toward helping their voices be heard. She taught me how animals have so much to share and teach us.
Carol's program is focused, professional, organized, and informative. She is always prepared and provides the class with materials and exercises to participate in. Learning in the group provides the blessing of accelerated growth that comes from the group energy. Carol helped us on so many levels to connect with each other, animals, and ourselves. She provides a safe space for learning and exploring. Carol is a natural and inspired guide and mentor.
Carol reaches out to each person with loving-kindness. She is very supportive and offers individual and useful input to each student. She handles students having concerns or problems with compassion, wisdom, and respect. Carol encourages and helps people find their own gift and path. This is truly a sacred journey and I can't imagine a more benevolent or empowering guide than Carol Gurney.
Suzy Rigali
Introductory and Advanced Workshop, Training Program 1-3, and Body Balancing
Westlake Village, CA
Christine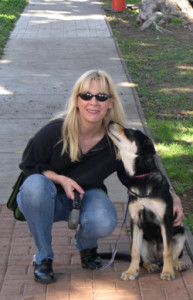 The truth about Carol Gurney is that she communicates with people as sublimely as she does with Animals! I saw her work individually and intently with each person in her classes. Successful animal communication requires the courage to look deeply within oneself and find a way through the difficulties and successes encountered during process. It is uncanny how Carol is able to astutely guide each individual towards her or his full capabilities. Her animal communication methods are clear, direct, grounded, professional and successful. Her beautiful, open heart and lively presence, her love of all forms of life and her keen abilities permeate the workshops. Working with Carol and taking her workshops has the potential to change your life, as well as every animal and animal's guardian you will be talking with.
Christine Säng (getting dog kisses from Marcello) Introductory & Advanced Workshop, Comprehensive Training Program Parts I-III and Body Balancing Workshop – Santa Monica, CA and New York, NY
Lei & Max
Who would have thought that one could be taught to communicate with animals? Carol Gurney does just that! Carol uses traditional methodology to teach what we are all innately gifted with, but somewhere along the line, are taught to suppress. She states goals and behavioral objectives and leads her students through step-by-step procedures that are practiced, validated, and evaluated.
Through a controlled, safe, classroom environment, it becomes evident that we all have this ability in varying degrees. Carol's students are taught to open their hearts and in doing so are enabled to retrieve the tools and skills necessary to communicate with animals.
Lei Taft & Max- Dog trainer and Training Program student – Volcano, HI
Ellen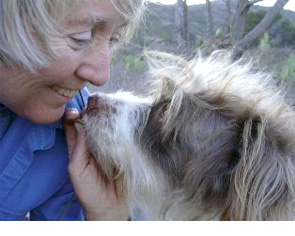 Since taking your animal communication workshop I have had two amazing experiences that I wanted to share with you. One was a communication from Minnie, a dog who passed two days previous. The message, which was "pick up your hammer and get busy", was for Tom, her human companion. For years the two had been inseparable. Since Tom is sort of like a street person who lives on an old boat, and since I have never known Tom to work a trade,
I had no idea what the hammer message was about. When I told Tom he simply started crying. But since then I noticed that Tom is doing odd jobs for folks, including using a hammer! When I talked to him about it, it turns out he used to be a carpenter until he was injured in an industrial accident many years ago. He is now plying his trade on a smaller scale, just to stay busy as he gets over the loss of his beloved Minnie.
The other message I sent was to my own dog, Cappy. Somehow he picked up fleas, in spite of all my efforts to prevent them. As soon as I saw those fleas crawling through his fur and merely thought the word "bath" he headed for his "bomb shelter" from which nothing can dislodge him. Instead of waiting until Jim came home to force him into the tub, I got quiet and sent Cappy a message. I visualized him getting in the bathtub and as I gently lathered him, his physical discomfort disappeared as each and every flea was washed down the drain. Suddenly Cappy emerged from his hiding place and got directly into the tub.
In light of these undeniable successes, I've already signed up for both Body Balancing Workshops as well as part one of the Training Program.
Ellen Kelley – Catalina, CA
Lisa
I can't even tell you how much I enjoyed the Body Balancing Workshop. I love communicating with animals but the hands-on was really a boost to my confidence because I could literally see the results of the work. The skeptic in me was sent packing on the very first day!
Lisa Hough – Culver City, CA
Sue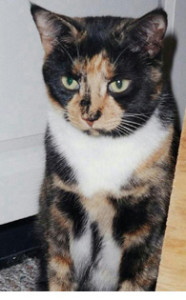 I wanted to share with you a wonderful story of finding my sweet cat, Caramel.
It was a Friday evening, and Caramel (a sweet calico I had gotten at the SPCA) didn't come in before I went to sleep and when she wasn't around for her breakfast, I started to get panicky. I started searching the neighborhood, calling her name, trying to figure out what could have happened to her. I came home empty-handed, and with growing anxiety.
I realized that I needed to calm down and remembered what Carol taught us in her workshop. I got out Carol's book, turned to the Lost Animal chapter, and read it!
I sat down, and began to meditate. Within a few minutes I actually began to calm down and find my center. I worked on sending a cord to Caramel's heart, and felt a warm feeling, and a heart beating. I asked if she was ok, and got a message of yes, she was ok, and not hurt. I asked if she could give me an idea of where she was. I got a picture of her laying on a floor with sun shining through some kind of slats onto her. I heard a message from her–they shut the door on me. I also worked on surrounding her in pink light with the feeling of you'll be ok, I'll find you, as was suggested in the book. I decided to also tune into my other two cats. Loki didn't know, but Frodo showed me a picture of Caramel and a man "talking" in front of a house nearby, with a streetlight shining down on them.
I walked around to the house I had seen in Frodo's message…to the EXACT spot where Frodo had sent me the picture. I finally stopped and listened, and I heard a little, plaintive meow! It was coming from the next house from the crawlspace. I ran over, and could see Caramel through a screened in window with opened slats!
I want to thank you, Carol, for your pioneering effort in letting people know that animals are conscious beings who have much to teach us. I'm sure that Caramel helped me that day to truly trust and commit to making that connection with her. From my desperation, I pushed myself to go to a deep place to truly connect with her. I'm not so afraid anymore and I have more faith that I'll be able to find answers of problems.
Thanks for your book and techniques. They definitely helped to show me the path to finding Caramel.
Lots of love and blessings to you,
Sue Wolf
Susan
I just had to write to you and let you know what a profound effect the Body Balancing course had on me. It's not an overstatement to say that it was a life-changing experience. It has been a lifelong dream of mine to be able to communicate on a deeper level with animals, and the body work feels like such an important part of this that it really can't be separated. All the hands-on opportunities you provided were wonderful. Feeling the immediate effects of the work in their bodies blew me away! I Feel so energized by my new-found ability to help animals, I can't wait to try out the techniques I learned on the animals in my life. I am so looking forward to taking the Comprehensive Training Program and pursuing this as my life's work. I feel I have finally found my purpose, which had been eluding me for so long. Thank you for your sensitive, yet down-to-earth, realistic training; I feel like I'm learning something that can be tested and proven which makes all the difference in the world.
Lea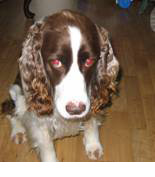 "Ginger" was an owner relinquishment to the English Springer Rescue America, Inc. because of behavioral issues. Ginger had started growling at the family's 18-month-old child and was in turn being attacked by their other dog.
During the initial interview in December 2004, this picture of Ginger, taken in her old home, was of a very a very timid and shy dog who was frightened of everything!
I brought her home on January 15, 2005. Even though she was very sweet, Ginger did not do well in new situations or around new people since her fear would get the best of her and she would growl and nip at others – truly a detriment when trying to place her for adoption.
My job, as her Foster Mom, was to see what I could do to help her. In the weeks that followed, Ginger and I began bonding, however she was still frightened. She never touched a toy and would absolutely panic when I was out of her sight. I was falling in love with her. But I also knew I couldn't adopt her, if her unpredictable behavior wouldn't change. She would come with me to church classes, where everyone loved her, yet she would growl and nip at the students.
I'd always felt that I knew what my dogs would be be thinking, but never realized that I could possibly really be "communicating" with them. For example I knew that my Foster "Buck" needed a kind and sensitive "Daddy" to adopt him. But Ginger was proving to be a challenge for me. As I waited for an animal behavioral trainer to come give her some training sessions, my frustration grew since I did not know how to deal with her.
Half joking, I told a friend that I wished there was someway to know what Ginger was thinking, because I didn't know how to help her. As fate would have it, Carol was offering a Beginner's Class just two days later!
I truly enjoyed Carol's class and was very excited about every aspect of it. On Sunday when it came time for us to exchange pictures of our animals, I shared one of Ginger's pictures. Classmate Lisa told me that "Ginger is very sweet, but she says that she can bare her teeth". I learned that though she liked me, and wanted to stay with me, she felt confused – she didn't know if she was "staying or going." Ginger wanted me to know that she "wasn't really like this, that she really wanted to be a happy dog." I was blown away, because I'd been so careful not to mention Ginger's "issues" to anyone during the class.
So, Sunday night after Carol's Introductory & Advanced Workshop, Ginger and I sat down to have a "Heart to Heart". I told Ginger that I loved her, and that I wanted to adopt her, but that she would have to show me that she could be a "Happy Dog" like she said. I told her that she could use her voice to play, but that she couldn't use her voice in fear or anger, because it wasn't appropriate. She did not need to worry or be scared, because nothing was going to hurt her. However, if she wanted to live with me she would need to be a brave strong girl because we would be going camping, and to strange and unusual places all the time. Her life would often be filled with new people coming to the house. Life in my home would be busy and adventurous and if she wanted to stay with me, I needed to know that she could be happy here.
The next morning as I was sitting at my computer, I heard all this commotion out in the sun porch. The next thing I knew a brown blur raced past the office door. A minute later, the brown blur raced the opposite direction down the hall. Excitedly Ginger came charging into my office with a toy, throwing it in the air and chasing it; begging me to come and play with her. This was the first time since she had been in my home that she even touched a toy, let alone be so playful and happy! This was her way of letting me know she wanted to stay with me, and that she could be a "Happy Dog".
Ginger's behavior changed over night. She no longer growls at people that come into the house, or when I take her to church classes. She is now brave and playful. We fearlessly go to the dog park and she is even playful with our new Foster, "Duncan". On April 1st we made it official, and I adopted Ginger from ESRA. Oh, by the way…. when the Behavioral Trainer finally arrived to work with us, Ginger was not displaying any signs of her previous behavior. No matter how much the Trainer would try to startle and frighten Ginger, she would flinch, but never growled or displayed any fear aggression. Ginger is a Happy Dog!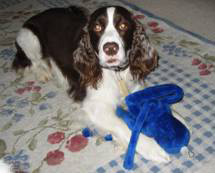 This is Ginger today. She just turned 5 years old on April 23, 2005, celebrating with her new collar and blue stuffed toy. As you can see, she is a different dog. She is no longer afraid to look someone in the eye, and loves to play with all her toys! She loves to go camping and is doing incredibly well at meeting new people. She is very secure now and is happy enough to share her home with another Springer that needs fostering, love and healing like she once did.
In February I didn't even know I was looking for an Animal Communicator, but the Universe made sure I was in the right place at the right time to find Carol. Not only did I find Carol, but I have found my heart's passion. I just completed Carol's Six-Day Comprehensive Part One Training Program. I found this course to be more than I could have ever imagined in depth and focus. At the same time, it is simple, direct and totally beautiful. I highly recommend Carol's HeartTalk Programs, as she is an outstanding teacher. She holds a very sacred space for her students to blossom and grow. I am totally amazed at the progress and skills I've learned in such a short time, and feel very blessed to have been led to Carol as my teacher in animal communication. Ginger and I thank you Carol. Your techniques helped change her behavior over night. Duncan, and all of my future Fosters, thank you as well. We send our love and thanks to Carrie, Tallanny, Happy Cat and Jessie for also being our teachers!
Lea Alexander
Daryl
It's become more and more clear to me over the years that what calls to my heart more than anything else is the desire to help and to communicate with animals. I just bought your "Beginner's Guide" CD and am thrilled with it. Your teaching style resonates with me much better than some other approaches I have tried. I'm like you — analytical, left-brained. I try too hard, I get in my own way. Knowing you've been here and that you've gotten past these obstacles gives me hope that I, too, can do this.
Thank you for making all of this available, and for all the animals you've helped.
Daryl Metzger – Santa Barbara, CA
Judy & Spirit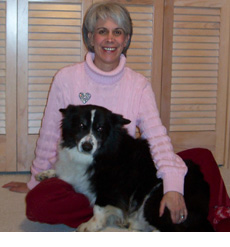 I just wanted to say how much I enjoyed the weekend workshop that I attended in Kentucky in June 2004, As a Professional Animal Communicator for the past several years, I was experiencing what I would call, a block in the development of my communication skills. Carol's workshop was the jumpstart I needed to get to the next level, and it helped me to make an even deeper commitment to my work.
In the three days, which included the Introductory and Advanced Animal Communication and Death and Dying workshop, she brought our group along with such ease that I think we all made great progress in a very short time.
Carol has a delightful way of expressing herself and her lessons, using her own cases as examples. It made it so much easier to learn and understand the techniques. I found that her suggestions for using tools to assist in making a connection with an animal easily enabled by to get through the door of what I had previously considered a solid brick wall.
I look forward to continuing my education with Carol in the near future by enrolling in the Four Part Comprehensive Training Program.
Judy Greenberg Guetig & Spirit
Animal Communicator – Shelbyville, KY
Barbara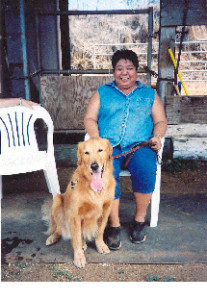 Carol Gurney is a superb instructor whether you are just beginning to explore the world of Animal Communication or already have some experience. She makes learning fun, interesting and challenges you to go deeper and search for more detail. Carol teaches you to problem solve for everyday situations as well as embark on a more spiritual journey in her death and dying classes.
Carol has several strategies for those who "think" they can't communicate with animals. She is supportive and has the gift to put everyone at ease and turns every situation into a learning experience for everyone. I would recommend Carol's class to anyone of any age or walk of life.
She is professional at all times, her program is well organized and she is able to answer questions with clarity.
Barbara Matayoshi
Healing Touch for Animals Instructor and
co-director of the American Institute of Massage Therapy – Kailua, HI
Sue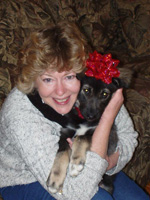 From the Lessons of Love Workshop….
A significant effect of this workshop for me was realizing my animals are in my life for reasons of their own! I always viewed myself as their caretaker, playmate, protector and provider of unquestioning love…and only wanted their love and companionship in return. I never thought there was anything else! Now I realize they have their own purposes; their own lessons to teach me. Carol's seminar opened my eyes to these lessons and has given me the opportunity to have a richer and broader relationship with the animals in my life.
Sue Erwin – Fairfield, VA
Nina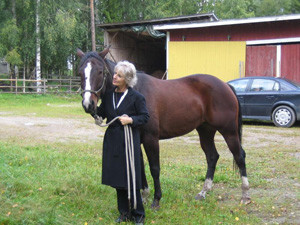 A few kind words for Carol from Finland…
Thank you ever so much for the wonderful weekend in Kurikka! Your warm heart, empathy, wisdom and great sense of humor made it very special for all of us. We are privileged to have had the opportunity to walk on this special path you have led us to…the path that brings us even closer to nature, its souls, and connects our hearts. We are all looking forward to your return in Summer 2006 and new learning! Thank you Carol.
Nina Rope
Training Program Level 1 - Agoura, CA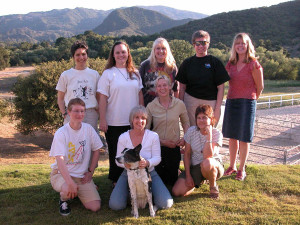 Front Left to Right: Rita Jansse (Holland); Carol Gurney and Jessie; Christine Sang (CA) & Renee Bissonnette (Canada).
Back row from left to right: Robin Mills (IA); Crystal Reed (CA); Janet Dobbs (VA); Laurel Dugre (MA), & Margaret McCormick (CA).
Training Program Level 3 - Agoura, CA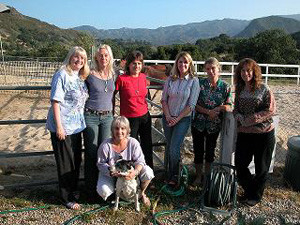 Left to Right: Janet Dobbs, Christine Sang, Renee Bissonnette, Margaret McCormick, Brigitte Bequet-Gaviola, Suzy Rigali and kneeling with Jessie is Carol. Missing from photo is Lei Taft (HI).
Body Balancing - Oahu, HI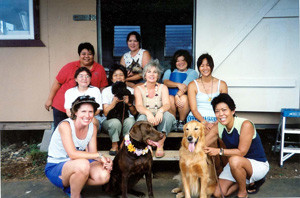 Front Left to Right: Katherine Taylor Baker, Nikki & Max, Karin Kaneshiro
Middle Left to Right: Julie Takesu, Mary Morioka & Friend, Carol, Doreen Shimamura
Back Left to Right: Barbara Matayoshi, Tracy Laride & Freddie, Lei Taft
Advanced Body Balancing Workshop - Centreville, VA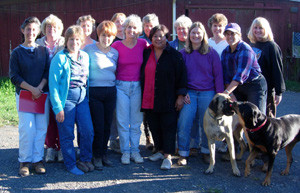 Left to Right: Toni Leo, Sue Maestas, Sherry Simmeth, Lynn Johanning, Marjorie Coleman, Fran Sutphen, Carol, Polly Peterson, Barbara Matayoshi, Carol Denny, Nadine Wormsbacher, Judy Harris, Kim Sanders, Janet Dobbs. Panda (Kim's Mastiff) and Laika (Sherry's dog) are the lucky canine attendants!
Comprehensive Training Program Level 5 - Agoura, CA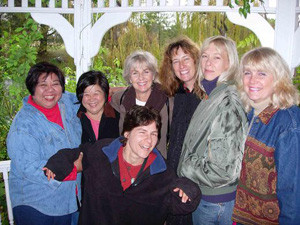 CONGRATULATIONS TO THE FIRST GRADUATES OF THE LEVEL FIVE COMPREHENSIVE TRAINING PROGRAM!!
Your passion for learning and your dedication to the profession of animal communication was rewarding to experience.
Pictured (left to right) are Barbara Matayoshi, Lei Taft, Carol (in middle), Suzy Rigali, Christine Sang, Janet Hobbs, Renee Bissonnette (front).
Comprehensive Training Program Level 1 - Agoura, CA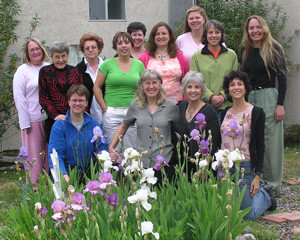 Pictured (starting with back row, left to right) are Gloria Hererra, Jan O'Hare, Vanna Tatti (Switzerland), Marilyn Gale, Lea Alexander, Carol Pepper (NY), Genie Hubbard (UT), Jacqueline Sowell (WA), Lisa Tygett, Monike Van Duren (Holland), Pattie Carney (FL), Carol, and Laisi Rogovin (NY).
Comprehensive Training Program Level 3 - Agoura, CA
Carol is in white in the middle. Pictured left to right is Pattie Carney, Lea Alexander, Jacqueline Sowell, Genie Hubbard, Monike Van Duren, Marilyn Gale and Rita Jansze.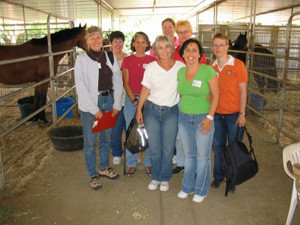 Introductory and Advanced Animal Communication Workshop - Kurikka, Finland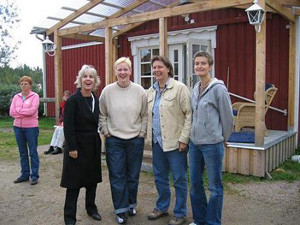 Pictured with Carol are just a few of the many wonderful people she met and worked with in Kurikka, Finland…Cessi Holmberg, Nina Rope and Marianna Kostiainen.
Advanced Body Balancing - Agoura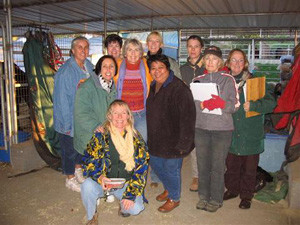 Pictured with Carol and guest instructor Barbara Matayoshi (center) are: Laura Harbert, Marilyn Gale, Lea Alexander, Diann Alexander, Christine Sang, Brigitte Gaviola, Carol Bippert and Gloria Hererra.
Training Program Level 3 - Agoura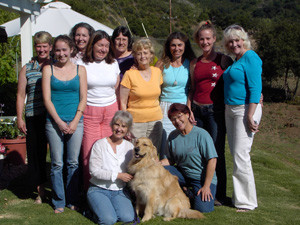 Back row (left to right): Lynn Davis, Jennifer Alvarado, Debra Cummings, Maureen Harmonay, Kathy Nelson, Janet McEntee, Debora Farrington, Anna Twinney, Scarlett Desta.
Front row (left to right): Carol, Spirit, and Betty Milburn.
Introductory and Advanced Animal Communication - Agoura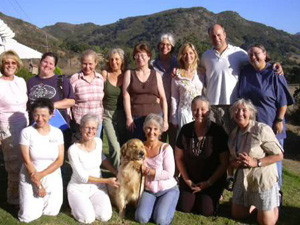 Front Row left to right: Liz Hernandez, Colleen Rolland, Spirit, Carol Gurney, Marta Gordon Martinez, Ellen Kelley
Back Row left to right: Taya Barron, Janet Jones Johnson, Mari Bangs, Wendy O'Brien, Colleen Palmer, Jim Shanklin, Suzette Ashley
Introductory and Advanced Animal Communication - Charlotte, NC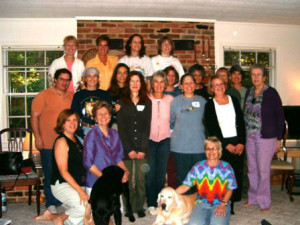 Training Program Level 1 - Agoura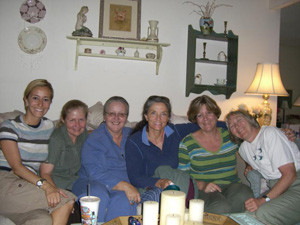 Pictured left to right are: Jackie Cronin, Janet Johnson, Marta Gordon Martinez, Letitia Lussier, Christine Campbell and Ellen Kelley.