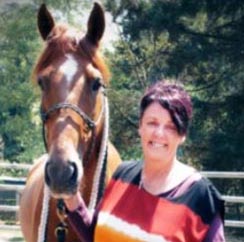 Certified Consulting Associate
*Click here for client testimonial
Debbie Cowan-Hackett is a veteran horse trainer and former show jumper who began communicating with animals in her own way before she was old enough to climb on her first pony.
Years after finding success in the ring and on the ground with horses, Deb became a driver of horse carriages in Melbourne and has thousands of hours of safe for-hire carriage operation on dense city streets to her credit.
A graduate student of Philosophy at Australian National University, Debbie later went to work with Mother Teresa and the Home for dying, destitute people in Calcutta.  It was while working in India that Debbie began to ponder the possibilities of professional animal communication and set out to commit herself to this cause.  Not long after this Deb went to study extensively under Carol Gurney, a pioneer in the field of animal communication.
Putting her skills, passion and dedication to the test, Deb worked with US authorities to rescue a wild Mustang from the hills of Nevada. And based on her status and experience the government approved her to adopt a particular Mustang named Whisper.  After moving Whisper to Australia, Deb's work began in earnest and today her Mustang is a shining example of how we can reach even a wild animal when we understand how to speak their language.
Other cases Deb has worked on include a severely traumatized Thoroughbred that was destined for destruction until Deb brought him around, and a German Shepherd dog that isolated itself from everyone until Deb was finally able to get through to him and help him realize he was safe and loved.
Deb specializes in helping animals and their people communicate with each other.  She works tirelessly to ensure that her clients begin the process of learning how to understand their animals and to be able to reach them through mutual, meaningful communication. Deb resides in Melbourne, Australia.
Deb is available during the following time frames:
Eastern Time:  6pm or after
Central Time:   5pm or after
Mountain Time:  4pm or after
Pacific Time:  3pm or after
To contact Deb email her by clicking here.