Certified Consulting Associate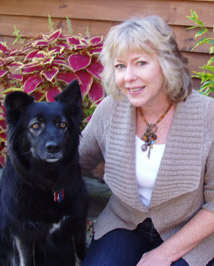 Sue will be unavailable until further notice.
Throughout her life, Sue has always felt a special connection with animals: she "just knew" what they wanted, she could understand an animal's personality immediately, and her own animals always seemed to know just when she needed their special attention. However, she never knew it was possible to talk with them until her animal companions led her to this discovery.
When Sue's beloved Irish Setter, Maggie, passed on after 15 years together, Sue found it very difficult to let go of the guilt she felt when she finally assisted Maggie with her passing. A friend suggested she work with an animal communicator, and despite many doubts and fears, Sue did, and was astounded with the results. Clearly Maggie was profusely grateful for Sue's final assistance, and sent many messages of love and support. As Sue had this Communicator work with more of her animals, one message became very clear: "you do, indeed, share a close bond with animals…and you need to become an animal communicator!" Shortly after, Sue attended one of The Gurney Institute's Introductory Animal Communication Workshops, and knew she found what she wanted to do for the rest of her life.
Sue completed her Certification Training and became a Consulting Associate in 2011. Sue mostly works with dogs, cats, and horses, and is always willing and able to work with other species. Her practice is founded in her deep compassion and respect for both animals and their caretakers, and a desire to truly and honestly "give animals a voice." She strives for authenticity and integrity, her approach is non-judgmental, and she draws on a strong set of problem-solving and communication skills to help her clients.
Sue and her husband used to own and operate a pet-friendly bed & breakfast in the Shenandoah Valley of Virginia and now reside in Pennsylvania.
Sue is also making herself available to those who are interested in private tutoring in all aspects of animal communication. Private tutoring is available to all levels of students from Beginner to Advanced.
To contact Sue for consultation or private tutoring, email her by clicking here.