Client Testimonials for MADELEINE BALCER
As a dog owner for most of my adult life, I deeply love my dogs, however, did not know the depth of their love and devotion to their human!!! My experience with Madeleine Balcer, through her communication with my Mr. T, has made me realize the depth of love and respect this beautiful soul has for me, as his owner!!!
As a child growing up, my only experience with animals, was watching my father beat and brutalize the farm animals, and I always felt so bad for them suffering these cruelties. When I decided to get a dog of my own in my forties, it was then that I experience the love that exists between a pet and their owner, and through Madeleine's communications with Mr. T, I now know, and feel the depth of this love and admiration, and am truly grateful for this experience. I wish her many more years of success in this field, working with Owners and their pets.
Sincerely,
Julia Newell,
Loving and Grateful Pet Owner
---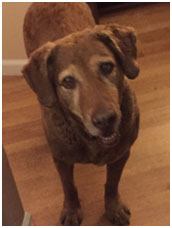 "Compassionate -Professional-Thorough" –are some of the words I would use to describe Madeleine's animal communication work.
Madeleine immediately got to the source of my dog Jake's lethargy and despondency. After an initial conversation with me, she talked with Jake and told me many verifiable facts that we had never discussed. I am amazed at how complete and meticulous her communication was with Jake.
Not only did she relate what Jake was feeling and why, she offered numerous comprehensive suggestions to improve his energy and health.
I am deeply grateful for her work and would highly recommend working with Madeleine!
Jean Hollowell